Wednesday of this week was International Women's Day. The last time I celebrated this important day on the Headteacher's Blog was back in 2017 – so it's time I did so again, to celebrate some more of my inspirational female role models. This year, I'm focusing on women in sport – and four women who have really inspired me over the past few years.
Victoria Williamson
Victoria Williamson was a Team GB track cyclist, specialising in sprints. She won a bronze medal at the 2013 World Track Championships and was on her way to being a contender for the 2016 Rio Olympics squad. In January 2016 she suffered a horrific crash on the track in a competition in Rotterdam, suffering a broken neck and back, dislocating her pelvis and slipping a disc in her neck. She had to relearn how to walk, rebuilding her strength and condition. Incredibly, in 2019, she returned to the track, competing for Team GB in the Track World Championships. She then switched to winter sport, and is now a member of the Team GB women's bobsleigh team.
I find Victoria's story so inspiring: to come back from a devastating crash and life-changing injuries to compete again at world championship level is a tale of such courage, determination and bravery. A true inspiration.
Leah Williamson
I found the whole team of Lionesses an incredible inspiration last year, as they brought football home in style with their victory in the European Championships. Beth Mead, Alessia Russo, Chloe Kelly, Keira Walsh, Millie Bright, Georgia Stanway…and the rest! They were all amazing. But Leah Williamson's calm, determined captaincy; her leadership of the team on and off the field; and her superb, level-headed approach to the game just blew me away. She's a truly inspiring role model. And, as far as I'm aware, she's not related to Victoria Williamson…
Janja Garnbret
I loved watching the new Olympic sport of competitive climbing at the Tokyo Games. I found myself hooked by the disciplines of speed, lead and bouldering – learning all kinds of new terms along the way! In the women's event, Janja Garnbret absolutely cleaned up.
Her athleticism, determination and skill was simply staggering – she blitzed every discipline. But it was when I watched the documentary The Wall: Climb for Gold on Netflix that I saw the struggle and difficulty behind the scenes of becoming the sports first ever Olympic gold medallist, and this made me admire her all the more. An amazing athlete!
Sky Brown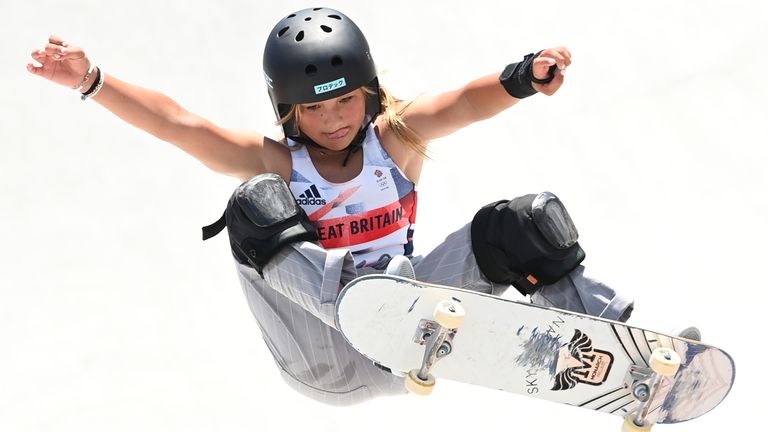 Sticking with the Olympic theme, I couldn't complete this post without mentioning the youngest professional skateboarder in the world, who won a bronze medal for Team GB in Toyko at the age of just 13. Her ability to pick herself up when she was down, to keep going with a huge grin on her face, and to celebrate the achievements of her opponents as much as her own, won me over completely.
Who are your female sporting inspirations?